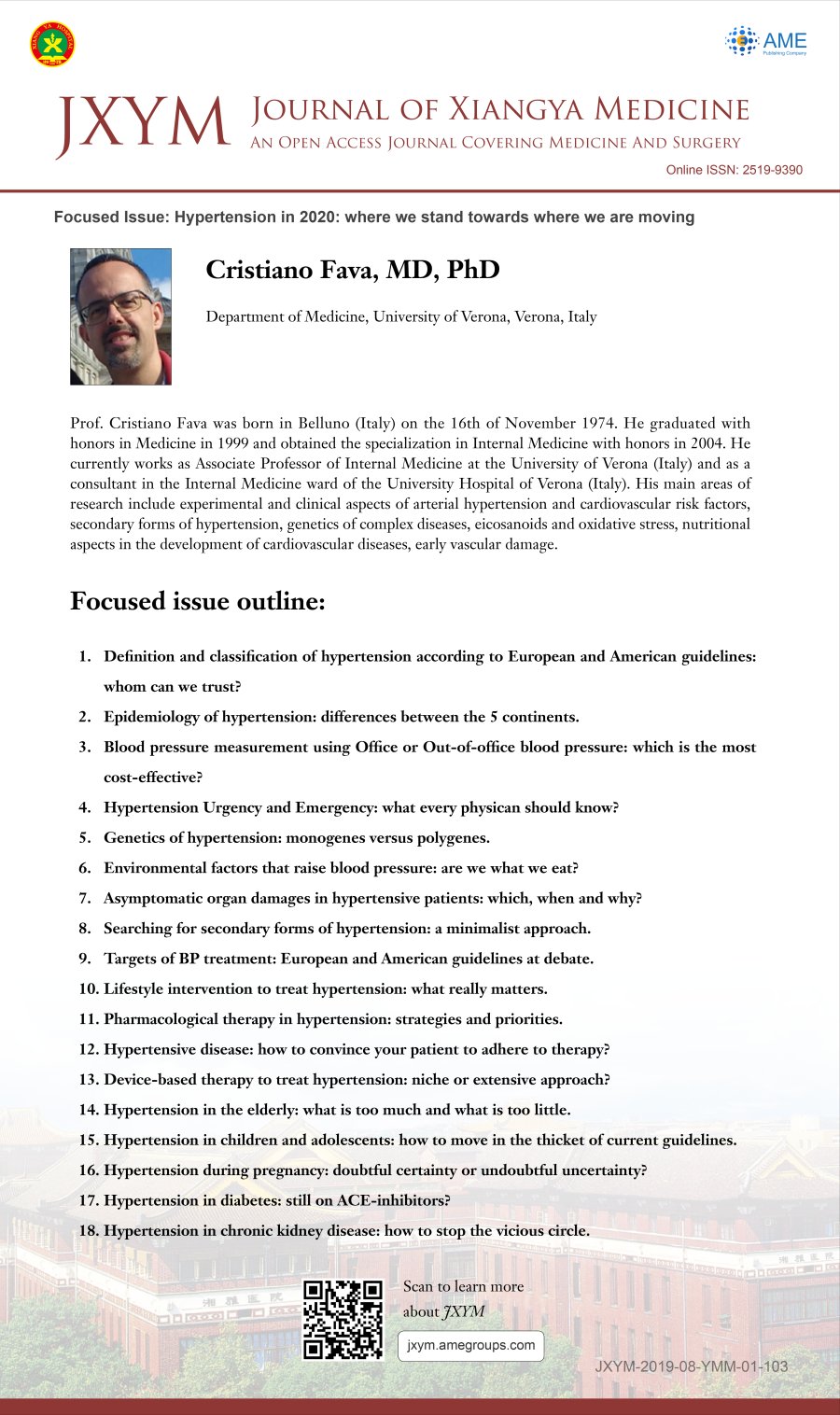 This focused issue is edited by Dr. Cristiano Fava, MD, PhD, from Department of Medicine, University of Verona, Verona, Italy.
Prof. Cristiano Fava was born in Belluno (Italy) on the 16th of November 1974. He graduated with honors in Medicine in 1999 and obtained the specialization in Internal Medicine with honors in 2004. He currently works as Associate Professor of Internal Medicine at the University of Verona (Italy) and as a consultant in the Internal Medicine ward of the University Hospital of Verona (Italy). His main areas of research include experimental and clinical aspects of arterial hypertension and cardiovascular risk factors, secondary forms of hypertension, genetics of complex diseases, eicosanoids and oxidative stress, nutritional aspects in the development of cardiovascular diseases, early vascular damage.
Focused issue outline:
Definition and classification of hypertension according to European and American guidelines: whom can we trust?
Epidemiology of hypertension: differences between the 5 continents.
Blood pressure measurement using Office or Out-of-office blood pressure: which is the most cost-effective?
Hypertension Urgency and Emergency: what every physican should know?
Genetics of hypertension: monogenes versus polygenes.
Environmental factors that raise blood pressure: are we what we eat?
Asymptomatic organ damages in hypertensive patients: which, when and why?
Searching for secondary forms of hypertension: a minimalist approach.
Targets of BP treatment: European and American guidelines at debate.
Lifestyle intervention to treat hypertension: what really matters.
Pharmacological therapy in hypertension: strategies and priorities.
Hypertensive disease: how to convince your patient to adhere to therapy?
Device-based therapy to treat hypertension: niche or extensive approach?
Hypertension in the elderly: what is too much and what is too little.
Hypertension in children and adolescents: how to move in the thicket of current guidelines.
Hypertension during pregnancy: doubtful certainty or undoubtful uncertainty?
Hypertension in diabetes: still on ACE-inhibitors?
Hypertension in chronic kidney disease: how to stop the vicious circle.